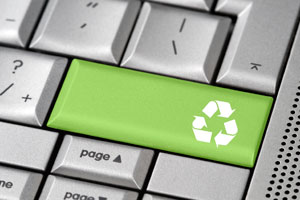 Electronic Waste Warning
If it plugs in, charges up, or takes batteries, it can't be disposed of in your trash because it could harm you or the environment. Find out about electronics regulations.
This section shows you how to recycle old electronic devices and related items like cables, DVDs and more.
Portable Electronics

Quick, take count -- how many portable electronics do you currently have in your backpack, purse, car, or desk drawer? Chances are quite a few. Portability is the name of the game these days. Everything from PDAs, iPods, GPS units, and cell phones are all designed to be taken with you wherever you go.
Unfortunately, they're not always designed for longevity. If one of your portable devices konks out, be sure to see if it can be repaired or returned to the manufacturer. If not, set it aside and bring it to one of the collection sites below.
How do I delete my personal info?
Every portable electronic has a way to delete or reset all the settings, delete your contacts, your text messages and more. If you already recycled your instruction booklet for your device, you can check WirelessRecycling.com for instructions about your device, especially phones and PDAs. The site is not affiliated with LessIsMore.org, and does require some of your personal info (name, email, etc.) but the directions are legitimate.

Where to go
Related Materials
Related Articles