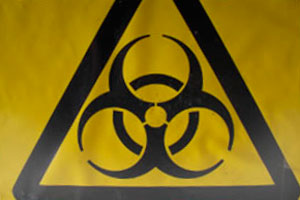 Hazardous Waste Warning
Wastes in this section are dangerous to you and the environment. Handle them carefully and dispose of them properly. Legally, households may not transport more than 15 gallons of wet or 125 pounds of dry hazardous materials. Read about the regulation.
Click below to check out our new video:
Recycle Your Batteries at Curbside!
For those living in the unincorporated area of the County or in the cities of Buellton, Goleta, Santa Barbara, and Solvang, you now have a new option for recycling your batteries. Simply follow the steps below:
Place the batteries in a zip-top plastic bag
Put the bag on top of (not inside) your recycling container on your normally scheduled recycling collection day
For rechargeable batteries, please tape the ends of each battery with clear tape so that the battery poles are not exposed (you can skip this step with single-use batteries)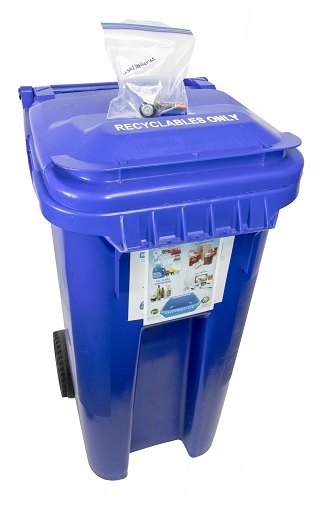 For more information, check out our Frequently Asked Questions or contact your trash/recycling hauler.
What types of batteries are rechargeable?
Rechargeable batteries come in all shapes and sizes. The most common types are Lithium Ion (Li-ion), Nickel Cadmium (NiCd), Nickel Metal Hydride (NiMH), Nickel Zinc (NiZn), and lead acid.
If you aren't sure if your battery is rechargeable or not, check out our Batteries Explained page for more information.
What are common uses?
You're likely to find rechargeable batteries in cell phones, cameras, laptop computers, and other portable devices.
Why are they hazardous?
As indicated above, rechargeable batteries contain numerous chemicals such as nickel, cadmium, and lead. If thrown in the trash, these chemicals can contaminate surface and groundwater supplies. Additionally, batteries can spark fires if they are damaged, punctured or over-heated. Take a look at what happened when a battery sparked in a trash collection vehicle in Napa, California:
As you can see, it's really important to dispose of batteries correctly!
In California, the Rechargeable Battery Recycling Act requires all retailers that sell rechargeable batteries to take them back and recycle them (a great example of product stewardship). If you notice that a store doesn't seem to be participating, don't be afraid to remind the staff about the law! You could also contact us to let us know!
Where to go
Related Materials
Related Articles