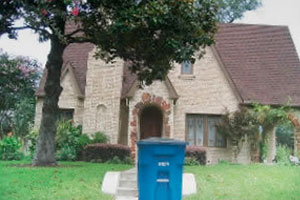 Recycling at Home is Easy!
The easiest way to start recycling at home is to keep a separate container for recyclables in your kitchen and to sign up for curbside collection service.

This page will help you find out all the specifics for single family homes.
What can I recycle at home?
This whole website is devoted to letting you know just that! In a nutshell, the most common recyclables are Paper, Hard Plastic, Glass Containers, and Metals. Take a look at the main page of this Recycling Section or download our Recycling Resource Guide for more details.
How do I order recycling service at home?
All you have to do is contact the waste hauler in your area. If you already have trash collection, often times you can get a recycling container for free! In some cases, the waste hauler will be the city that you live in because some cities provide their own trash hauling service.
Who do I call if I have problems?
If you have questions about your collection or if the containers were not picked up, contact your service provider directly. If you aren't satisfied with the response, feel free to contact us and we'll help you out.
Can I get a bigger recycling container?
In the South County unincorporated areas, we offer 32, 64, and 95 gallon recycling containers. In the North County unincorporated areas we have 30, 60, and 90 gallon containers. If you live in a city, it's best to contact the city directly to find out what sizes are available. You can obtain their contact information on our City Contacts Page.
Always feel free to contact us here or call (805) 882-3600.
Where to go
Outside Santa Barbara County (2)
Related Materials
Related Articles
November 08, 2019 by Leslie Robinson -

Recycle

October 05, 2017 by Alan Nakashima -

Recycle

August 15, 2017 by Tom Chiarodit -

Recycle

November 11, 2016 by Tom Chiarodit -

Clean-Ups

May 10, 2016 by Leslie Robinson -

Recycle

September 25, 2015 by Carlyle Johnston -

Recycle

June 03, 2019 by Carlyle Johnston

March 24, 2020 by Leslie Robinson

September 03, 2020 by Sam Dickinson -

Clean-Ups

November 10, 2021 by Kaitlyn Haberlin -

Recycle

January 11, 2021 by Tori Kampmann

March 10, 2023 by Tori Kampmann