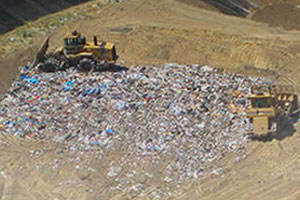 Trash: Landfill Bound
Unfortunately there are still materials we can't avoid throwing away. This section contains information about what items are trash, why they are trash, and what happens to trash in Santa Barbara County.
Lucky for us, most plastics are recyclable in the County of Santa Barbara - most, but not all. The non-recyclable plastics fall into a few different categories:
Syrofoam, or Expanded Polystyrene Foam
Broken pieces of styrofoam or styrofoam containers that have come into contact with food are always trash. The only types of styrofoam that may be reusable are those that act as packaging materials, such as styrofoam peanuts. If you have packaging materials, see our Packaging Material Reuse page. Other forms of styrofoam are trash.
Plastic Bags and Plastic Film
Plastic bags and other plastic film are currently not recyclable. Please do not put them in your blue bin. Visit our Plastic Bags page for more information.
PVC Pipes
PVC pipes are brittle, meaning that they can be dangerous if placed in a blue bin for recycling. Please remember to always put your PVC pipes, whether broken or not, in the trash. And if they're mostly in tact, try reusing them by trimming off the broken portion.
Compostable Plastic
As the name implies, compostable plastic is designed to be composted, not recycled. It's made from materials such as Poly Lactic Acid (PLA), which is of a similar density to PET (plastic labeled Number 1). As such, it's really difficult to separate compostable plastics from PET and can ruin the recycling of the PET material.
If you have compostable plastics, you may be able to compost them at home but it will take a long time. If you live in a community with a food waste recycling program, mix your compostable plastics (make absolutely sure they're compostable!) with the food scraps.
What about plastic toys that include electronics?
Plastics that contain electronic components, like toys that make sounds or have lights, should be treated as electronic waste (anything that uses batteries, plugs in, or charges up). Some smaller toys may have built-in batteries you can't see or change, but they're still classified as electronic waste.
DVDs, CDs, and other plastic media can be recycled, too. Look at the related links on the side of this page for more information.
Where to go
Related Materials
Related Articles