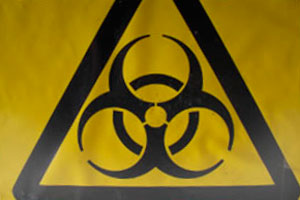 Hazardous Waste Warning
Wastes in this section are dangerous to you and the environment. Handle them carefully and dispose of them properly. Legally, households may not transport more than 15 gallons of wet or 125 pounds of dry hazardous materials. Read about the regulation.
Check out our "sharps" video by clicking below:
Ouch!  No one wants to get stuck with your old sharps. Keep all sharps and disposal containers out of reach of children. Do not attempt to bend or break any needle or syringe, and do not try to replace the cap on needles.
NEW! CLICK HERE to request a free sharps mail-back container from MED-Project!
You will receive a sharps container and free shipping label. Once your container is filled, simply mail the package back at your nearest US Post Office. MED-Project offers these containers for free because of the new product stewardship law, SB 212.
Free mail-back containers also offered by MarBorg, Waste Management, & E.J. Harrison
For residential customers living in the unincorporated area of Santa Barbara County and in the cities of Buellton, Carpinteria, Goleta, Santa Barbara, and Solvang, MarBorg Industries, Waste Management, and E.J. Harrison & Sons now provide free, postage-paid mail-back containers for home-generated sharps. To order a container, simply call your hauler. Visit our Waste Hauler page for contact information.
What are sharps?
Home-generated sharps, or simply "sharps", are needles, syringes with needles, and disposable lancets like the type diabetics use to test their insulin levels.
What's the proper way to store my sharps?
Please collect your sharps in an approved container made of rigid, thick-walled plastic. The containers should be clearly marked with a biohazards label.
You can request a free container by mail as described above. Free sharps containers are also available from the County at the County clinic locations listed below. Containers can also be obtained at local pharmacies and through medical supply companies. Examples are included in the listings below.
Where can I dispose of my sharps?
It is illegal to put sharps (even if properly contained) in the trash. Use a mail-back program or take your sharps to one of the locations listed below. Please download our sharps brochure for more information.
Where to go
Related Materials
Related Articles