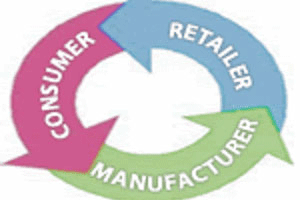 Product Stewardship
Whether you've heard it referred to as product stewardship, extended producer responsibility, producer responsibility, or some other variation, it's a growing movement in the United States and it's worth paying attention to.
County Passes Safe Drug Disposal EPR Ordinance
After a year-long process of gathering stakeholder feedback and researching solutions to the problem of safe drug disposal, the County passed its Extended Producer Responsibility (EPR) Ordinance for the Collection and Disposal of Unwanted Covered Drugs.
In a 4-1 vote on June 21, 2016, the Board of Supervisors approved the second reading of the ordinance, which will require all drug producers that sell their products within the County to design, fund, and operate a safe and convenient collection, disposal, and education program for unwanted consumer medications, including both over-the-counter and prescription meds.
The ordinance prioritizes permanent collection sites at pharmacies and also allows for the use of mail-back envelopes and one-day collection events to meet convenience goals. Producers may operate individually or jointly to develop their required stewardship plans.
Read our press release for more information!
Mattress Recycling Fee Begins in December
On October 1, 2015, the California Department of Resources Recycling and Recovery (CalRecycle) approved the proposed budget and recycling fee for California's new Mattress Recycling Program called Bye Bye Mattress. Beginning December 30, 2015, mattress retailers and other sellers must collect an $11 recycling fee on each mattress or box spring sold to California end-users.
The fees will be used to fund mattress collection, transportation and recycling services throughout California. The program will also create a network of collection sites for California residents, hotels, universities, hospitals and military bases and will support a fund to help communities battle illegal dumping.
The Mattress Recycling Council (MRC), the organization operating the program, estimates that US consumers discard at least 20 million mattresses and box springs annually.
Read more about the program on MRC's website.
County Officially Supports Three New EPR Bills
In April 2013 the County sent letters of support for three bills that would establish Extended Producer Responsibility (EPR) programs in California. As described in the EPR section below, these types of programs require manufacturers and retailers to take greater responsibility for reducing the life-cycle impacts of their products and packaging, including providing take-back programs for unwanted products.
The three supported EPR bills are:
You can track the status of these bills on California's legislative information website.
California's Paint Stewardship Program Kicks Off First Year
Now when you go to buy new paint, you may be able to bring your old paint back to the same location. In October 2012 seven paint retailers in Santa Barbara County began participating in a new collection program operated by the industry group PaintCare. Residents, as well as qualifying businesses, are able to use the drop-off sites at no charge. Read the full announcement by clicking here.
National Battery Stewardship Program One Step Closer to Fruition
The Corporation for Battery Recycling (CBR) recently released an RFP to manage its voluntary, industry-led stewardship program for all household batteries, including both rechargeables and non-rechargeables. Read more about it here.
Kudos to the participating battery manufacturers for voluntarily stepping up to improve battery recycling!
What is Product Stewardship?
Product Stewardship is defined as the act of minimizing health, safety, environmental and social impacts, and maximizing economic benefits of a product and its packaging throughout the product's lifecycle. The producer of a product has the greatest ability to minimize its adverse impacts, but other stakeholders, such as suppliers, retailers, and consumers, also play a role. Stewardship programs can be either voluntary or required by law.
What is Extended Producer Responsibility?
Extended Producer Responsibility, or EPR, is a mandatory form of product stewardship that requires producers to take responsibility for their products and packaging once consumers no longer want them. The two main components of EPR policy are:
Shifting financial and management responsibility upstream to the producer and away from the public sector; and

Providing incentives to producers to incorporate environmental considerations into the design of their products and packaging.
What are some examples of Product Stewardship?
One example of product stewardship locally is the household battery collection program operated by the County in partnership with local retailers. Home improvement stores, camera shops, and drug stores voluntarily collect batteries from the public to be recycled at the County's Community Hazardous Waste Collection Center. These retail participants are helping to ensure that the products they sell are responsibly recycled when no longer in use.
Other examples include retail-based electronics collection and recycling programs, such as those offered by Staples and Best Buy; California's motor oil recycling program in which do-it-yourselfers can recycle their used oil for free at automotive supply stores, quick lubes, and gas stations; and toner cartridge mail-back recycling programs.
And examples of Extended Producer Responsibility?
California's new Architectural Paint Recovery Program is a good example of EPR. Slated to begin in Fall 2012, the paint industry will be required to fund the collection and recycling of common household paints, including both latex and oil-based, at hazardous waste collection centers and paint stores throughout the state. The non-profit organization PaintCare will manage the program on behalf of the paint industry. More information is available on PaintCare's website.
The new program should ultimately reduce costs to ratepayers locally and throughout the state, a primary goal of EPR.
How does the County support Product Stewardship and EPR?
In June 2011 the County Board of Supervisors adopted an official Resolution Supporting Extended Producer Responsibility. The resolution allows County staff to advocate for EPR programs and support manufacturers that provide take-back programs.
The County is also an associate member of the California Product Stewardship Council and an affiliate with the national Product Stewardship Institute.
What can I do to help?
In a nutshell, support those who support product stewardship:
Purchase products from retailers and manufacturers that provide take-back programs for their products

Thank participating retailers and manufacturers for providing product stewardship programs; the more positive feedback they receive, the more likely they'll be to keep the programs going!
Related Materials
Related Articles