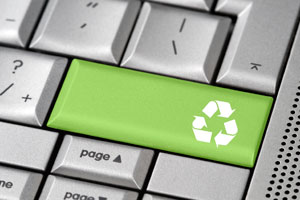 Electronic Waste Warning
If it plugs in, charges up, or takes batteries, it can't be disposed of in your trash because it could harm you or the environment. Find out about electronics regulations.
This section shows you how to recycle old electronic devices and related items like cables, DVDs and more.
No need to wait for a special collection day…Recycle your old electronics today!
What is Electronic Waste?
Electronic waste, sometimes called "e-waste", includes all devices that require electricity to operate. If it plugs in, charges up, or takes batteries, it's considered e-waste when it breaks.
Click on a category below for specific information on where to recycle your electronic item(s).
TVs, Computers and Related Items

Office Equipment

Audio and Visual Equipment

Telephones and Cell Phones

Small Appliances

Large Appliances
These devices often contain valuable and rare metals, as well as chemicals that can be harmful to you and the environment. Electronics should never be thrown in the trash or burned. Lucky for you, this section is full of information about the right way to dispose of these items.
Where can I recycle my electronics?
While you can't recycle electronics in your curbside blue bin, many local facilities accept e-waste for recycling (and most of them are free!). Locate your item in the categories above or below to find out where to recycle it.
Or, for a comprehensive list of recycling locations in Santa Barbara County, check out our Electronics Recycling Brochure or Electronics Recycling Flyer.
If you're looking for ways to recycle e-waste at work, please view our Business Electronic Waste page.
Free Bulky Item Collection
If you have trash and recycling service at your home, you can call your hauler to schedule two free "bulky item" pick-ups per year. Bulky items include couches, mattresses, appliances, computers, and other electronics. After the material is picked up, the haulers sort through it to recover anything that can be reused or recycled.
Please note that multi-family complexes are also eligible for two bulky item pickups annually. Each complex manager must make arrangements with your hauler to determine a central location and dates for the service.
If it still works, donate it!
Used and unwanted electronics are one of the fastest growing waste streams in the world. If you still have functioning electronics, there are many ways to reuse them. Take a look at our Reuse Electronics page, Reuse Computers page and Reduce Electronic Waste Tips page for more information.
If it's broken, fix it!
If your computer or other gizmo breaks, chances are someone can fix it. Check out our Computer Repair page for more information.
Complete List of Pages in Electronics Section
Every page in this section is listed below. Either look through it to find what you're looking for or use the search bar above. Recycling locations are displayed on the pages listed below.