Food Donation
Reducing organic waste is a top priority for Californians and us here in Santa Barbara County. Cutting back on food waste and putting yard trimmings into our green bins are great ways to divert waste from the landfill. Find out more about yard waste recycling, composting, food waste reduction, and other ways to reduce organic waste in this section.
Giving usable food items to those in our community who are less fortunate is a humanitarian way to cut back on food waste. Find your closest donation location in the "Where to go" section at the bottom of the page.
The County of Santa Barbara partners with Santa Barbara County Food Rescue, which is a collaborative effort to connect food donations with delivery to needy recipients. Click here for more info.
Sample Donation Items
Unprepared Foods
Packaged foods - bread, cereal, whole grains (e.g. barley, buckwheat, oats, rice, quinoa, wheat), nuts, dried beans, lentils, pasta, coffee, tea
Produce and canned goods - fruits, vegetables, beans, tuna, soups, juices
Prepared Foods
Leftovers from events and surplus foods from restaurants, caterers, hotels, and grocery store delicatessens
Entrees, casseroles, salads, soups, sandwiches, pre-packaged meals, bakery items
Donation Guidelines
Unprepared Foods
In original packaging
Unopened
Not past expiration date
No candy or soda
No home-canned foods
No pet food
Prepared Foods
Same criteria as above for unprepared foods, plus:
Food should be placed in food-safe plastic bags or food-safe, sanitized, shallow containers with a depth or width of less than four inches
Food should be immediately refrigerated or frozen to ensure that the temperature is 41 degrees or lower within four hours of preparation
Liability Protection
A federal law, the Bill Emerson Good Samaritan Food Donation Act, protects good faith donors from civil and criminal liability if a product later causes harm to its recipient. It's designed to encourage donations of food and grocery products to non-profit organizations, such as homeless shelters, soup kitchens, social service organizations, and churches for distribution to needy individuals.
Tax Benefits
Under Assembly Bill 152, a "qualified taxpayer" who donates fresh fruits or vegetables to a food bank in California may receive a tax credit up to 10%. Also, under Section 170e3 of the Internal Revenue Code, an enhanced tax deduction is available to businesses that donate wholesome food to 501(c)3 nonprofit organizations that serve the poor and needy.
Donations from Household Fruit Trees
Households that have five or more fruit trees can contact the Foodbank of Santa Barbara County to have their fruit harvested. Residents with fewer than five trees are encouraged to pick the ripe fruit and bring it to the Food Bank themselves. Contact the Food Bank if you need to borrow harvesting tools.
"OLIO"
You can also download a new app called "OLIO" to share your surplus or unwanted food with neighbors - think unopened yogurts of a flavor you thought you would like but discovered you didn't or excess baked goods that your family won't be able to eat solo.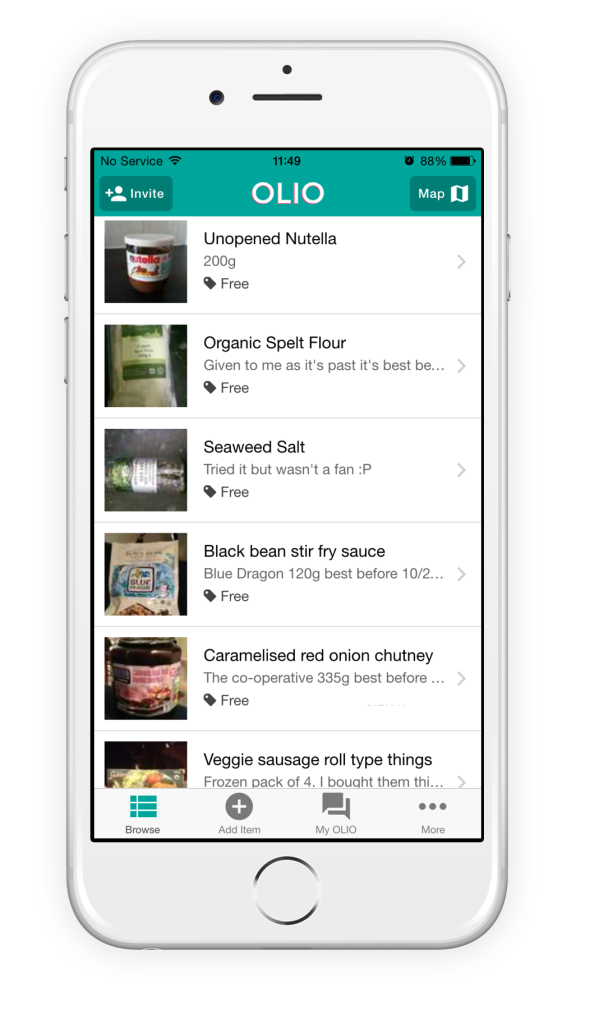 Food Scraps for Animals
Another option for preventing/reducing food waste is to donate food scraps to local animal organizations. BUNS (Bunnies Urgently Needing Shelter) accepts fresh greens and vegetables, and Lil' Orphan Hammies accepts fresh produce and bread products.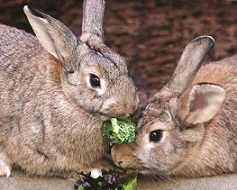 Photo courtesy of BUNS

Photo courtesy of Lil' Orphan Hammies
The Santa Barbara Zoo also accepts edible fruits and vegetables (such as leftover produce that residents have grown at home) and organic, pesticide-free tree trimmings and branches to feed to the Zoo's animals. Download their Plant and Tree Donation Flyer here or their Produce Donation Flyer here, or just click on the flyers below.
For additional tips on reducing food waste, please download our new Food Forward booklet.
Where to go
Related Materials
Related Articles