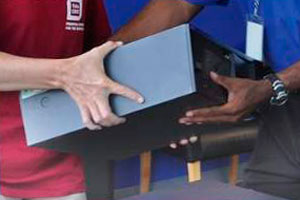 Working Computers and Monitors Aren't Trash!
Technology moves fast, and it can often seem that our old computers and monitors should be recycled as soon as we get a new one. Not necessarily!

This page will help you donate your functioning equipment to those in need.
Computers for Families
The Santa Barbara County Education Office accepts both computers and monitors for its Computers for Families program. At Los Prietos Boys Camp, students learn how to repair and upgrade the computers, which are then donated to students in need at the County's various public schools.
Click here or see the location listing below to find out how to participate.
Manufacturers sometimes help
For instance, Hewlett-Packard (HP) accepts computer equipment from businesses to refurbish and resell. It also donates computer equipment to the National Cristina Foundation.
Help us find more!
If you know of other locations or programs for reuse, please contact us and we'll add them to our site.
What if my item is broken?
Our Computer Repair page will help you find resources to fix broken equipment. If the item is beyond repair, please properly recycle it.
Where to go
Related Materials
Related Articles