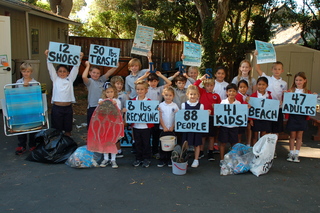 Community Clean-Ups
If you're looking for ways to help keep your community clean and safe, you've come to the right place! Check out our programs below and always feel free to contact us with any questions.
Isn't it time to show your favorite beach or creek some love? Join us for Coastal Cleanup Day on Saturday, September 23rd, 2023 from 9:00 am to 12:00 pm.
The largest volunteer effort in California, Coastal Cleanup Day is our day to give back to the ocean, beaches, and creeks that make Santa Barbara County such a wonderful place to live. Get outside, enjoy nature, and and remove marine debris from our beaches and waterways.
Volunteers of all ages can participate at any of the 29 cleanup sites. Pre-registration is not required, but is encouraged. Visit this website to register and to see the various cleanup sites hosted this year!
Each site will have a captain on hand to provide necessary instructions and supplies. We encourage volunteers to bring their own gloves, buckets, and other reusable cleanup supplies to lessen the plastic footprint of this event.
If you can't make the cleanup on the 17th, we encourage you to cleanup any time during the month of September and your cleanup data will be included as part of Coastal Cleanup Day!
In Santa Barbara County, Coastal Cleanup Day is brought to you by the County of Santa Barbara Resource Recovery and Waste Management Division with our partner Explore Ecology, with support from the Cities of Santa Barbara, Goleta, and Solvang. The California Coastal Commission organizes the statewide event and the international event is organized by the Ocean Conservancy.
Illegal dumping on private lands costs property owners and the County thousands of dollars in clean-up costs every year. It's a violation of the Santa Barbara County Code and the California Penal Code for any individual to throw or deposit litter on private, open, or vacant property, outside of normal collection containers. Click here for more information, including phone numbers to report illegal dumping in your neighborhood.
In Santa Barbara County, it is a violation for inoperable vehicle to be stored in public view on private property. Click here for more information, including contact numbers to report abandoned or inoperable vehicles in your community.
Residents with trash and recycling service in the unincorporated area of the county are entitled to two free "bulky item" collections per year. These special pick-ups include appliances, electronics, furniture, and other items that are too large to fit in residential trash containers.
Dirt, rocks, and other debris should be safely managed after severe weather. Check out our guidelines here. The County of Santa Barbara maintains a Material Exchange website to serve as a resource for people to post usable natural material (e.g. soil, rocks, boulders) for others to obtain for free. Visit the site here: http://sbcountymaterialexchange.com/.
Landfill permit packages for contaminated soil and asbestos can be found here. Call all facilities to make sure they accept your specific materials before you arrive. A list of County facilities can be found here and accept certain types of debris, including construction waste, green waste, and bulky household items that may have been damaged in a storm.