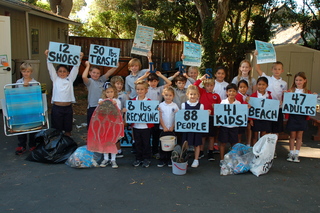 Community Clean-Ups
If you're looking for ways to help keep your community clean and safe, you've come to the right place! Check out our programs below and always feel free to contact us with any questions.
Coastal Clean-Up Day is an annual volunteering event to clean Santa Barbara County's beaches, creeks, and lakes. Coastal Clean-Up Day 2020 was changed due to COVID-19. Four neighborhood clean-up days took place; September 5th, 12th, 19th, and 26th, from 9am-12pm.
Find the results here
!
Illegal dumping on private lands costs property owners and the County thousands of dollars in clean-up costs every year. It's a violation of the Santa Barbara County Code and the California Penal Code for any individual to throw or deposit litter on private, open, or vacant property, outside of normal collection containers.
Click here for more information
, including phone numbers to report illegal dumping in your neighborhood.
In Santa Barbara County, it is a violation for inoperable vehicle to be stored in public view on private property.
Click here for more information
, including contact numbers to report abandoned or inoperable vehicles in your community.
Residents with trash and recycling service in the unincorporated area of the county are entitled to two free "bulky item" collections per year. These special pick-ups include appliances, electronics, furniture, and other items that are too large to fit in residential trash containers.