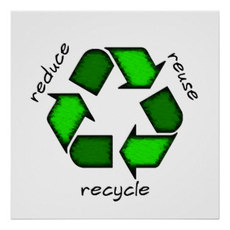 Reduce, Reuse, Recycle
Timeless wisdom when it comes to waste issues.
Keeping stuff from being thrown away doesn't start with recycling. Find ways to reduce your trash. Look for ways to reuse or repair items that still function. Explore recyclable items that can't go into your blue bin.
If you or your kids are done with school, and you still have lots of supplies at home, check out the resources below to get them to people in need. Don't let those binders, binder clips, calculators, erasers, file folders, hole punches, notebooks, paper, paper clips, pencils, pens, post-it notes, rulers, staplers, and tape go to waste!
Check out the Related Materials on the side of the page for more school-related products that you can reuse!
Where to go
Related Materials
Related Articles