Santa Ynez Valley Hazardous Waste Collection Event
Wastes in this section are dangerous to you and the environment. Handle them carefully and dispose of them properly. Legally, households may not transport more than 15 gallons of wet or 125 pounds of dry hazardous materials. Read about the regulation.
Each April and October, Santa Barbara County, Resource Recovery and Waste Management Division, in partnership with the City of Solvang, hosts a temporary hazardous waste collection event. The County will collect all types of common household hazardous waste and electronics at the Santa Ynez Valley Recycling and Transfer Station.
Acceptable items include:
Automotive Fluids - motor oil, oil filters, antifreeze, brake fluid, gasoline, etc.
Batteries - small household types as well as automotive
Cleaners
Fertilizer
Fluorescent Lights - tubes and bulbs
Medications - non-controlled substances only
Needles and other Home-Generated "Sharps" (must be delivered in rigid, puncture-proof containers)
Paint - latex and oil-based
Pesticides
Propane Tanks
Smoke Detectors - only those designated as "Ionization" or marked with an "I"
Solvent and Thinner
Electronics - computers, TVs, stereos, CD/DVD players, cell phones, printers, fax machines, scanners, copiers, cameras, video game systems, microwaves, etc.
And More!
This special event is available to residents in the unincorporated area of Santa Barbara County (e.g. Santa Ynez, Los Olivos, Los Alamos, Ballard) and the City of Solvang. Sorry, no Buellton residents. (Buellton residents can instead bring their waste to the City's next household hazardous waste collection event.)
Bring up to 15 gallons or 125 pounds of waste per trip. Keep in mind that no trash or green waste will be accepted. And leave your biological, explosive, and radioactive materials at home (with the exception of smoke detectors).
For more information, please feel free to call us at (805) 882-3603, send us an e-mail.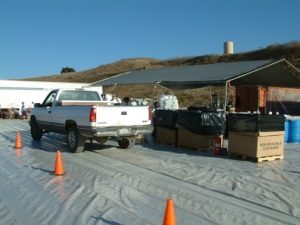 Related Materials
Related Articles