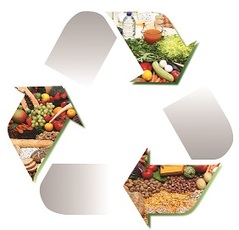 Food Forward
In the United States, an astonishing 40% of our food is landfilled. Food is wasted at every part of the supply chain, from the farm, to our grocery store, to our plates. We can all do our part in creating less food waste and preventing food from going to the landfill. Read below for helpful tips to reduce the amount of food you and your family waste.
On farms, at grocery stores, and in our homes and schools, Americans are wasting too much food. Here at the County, we'd like to help change that, at least locally.
Our new Food Forward initiative is aimed at giving the community the tools they need to keep food out of our landfill. In doing so, we can all save money, reduce the use of natural resources, and cut the production of greenhouse gases.
Check out an excellent video on the subject titled Food Wastage Footprint produced by the United Nations Food and Agriculture Organization.
The food recovery hierarchy below is similar to the waste management hierarchy for other types of products or materials:
Click on the strategies below for details on how to avoid the bottom tip of the hierarchy:
You can also download our Food Forward booklet, which contains all of the great information found in this section.
Related Materials
Related Articles