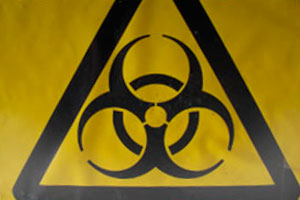 Hazardous Waste Warning
Wastes in this section are dangerous to you and the environment. Handle them carefully and dispose of them properly. Legally, households may not transport more than 15 gallons of wet or 125 pounds of dry hazardous materials. Read about the regulation.
Watch our new Fluorescent Lights Video!

Handling Instructions for Fluorescent Light Tubes
Be careful not to break fluorescent tubes! Each tube contains a small amount of mercury, which can be dangerous if released into the open.
What if my bulb breaks?
Please take a look at our Broken Fluorescent Light Bulb Cleanup page for more information.
Really, these lights contain mercury?
Yes, mercury vapor is used to transport electrical currents through the light bulb. Even though the amount of mercury is relatively small, fluorescent lights must be disposed of as hazardous waste. Mercury is a toxic heavy metal that can cause severe damage to the brain, nervous system, kidneys, lungs, and other vital organs. Pregnant women, infants, and young children are especially at risk.
What's the best way to store fluorescent tubes?
Ideally, place your old tubes in the same box in which they were purchased. Since fluorescent tubes are quite long, it can be difficult to find other storage options for them. If you can't find a large enough box, try to bring them to a collection center soon after changing them out. Wrap the tubes in a blanket or big piece of plastic and position them in your vehicle so they won't roll around.
Read our most recent press release here.
Where to go
Related Materials
Related Articles