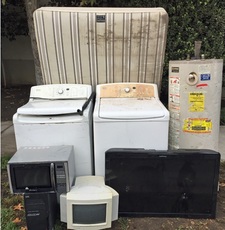 Bulky Item Pick-Ups
Do you have large items at home that you need to dispose of but that won't fit into your regular trash bin? Read below for a convenient, free option available to you!
Free Bulky Item Pick-Ups
Residents with trash and recycling service in the unincorporated area of the county are entitled to four free "bulky item" collections per year.
These special pick-ups include appliances (e.g. refrigerators, stoves, hot water heaters, dishwashers, washing machines, dryers, etc.), electronics (e.g. old TVs, computers, stereo equipment, etc.), furniture (e.g. couches, tables, beds, mattresses, etc.), and other items that are too large to fit in residential trash containers.  Up to five items or boxes are allowed per pick-up.
No loose trash or construction and demolition materials are allowed.
Call your hauler (either MarBorg or Waste Management) to tell them what items you have and schedule an appointment.
The program also includes multi-family complexes, such as apartments and condos. Residents in multi-family complexes should coordinate bulky-item picks-ups through their landlord or property manager.
Check out our quick video here:
Related Materials
Related Articles