School Recycling Made Easy
Recycling at school is easy with the support provided by the County of Santa Barbara.

If your school is located in the unincorporated area of the County, help is available with recycling bins, education materials, waste services, and more!
Since school waste is up to 80% recyclable, schools make a huge impact when they recycle. Recycling is also cheaper than trash disposal, so it helps save the environment AND your budget! Now you have every reason to recycle at school.
Download our School Recycling Assistance flyer or recycling pamplet, Go Green and Save, and check out the info below.
Also check out our new Teacher Resources page! It's full of info and activities for our wonderful local teachers.
What assistance is available for schools in the unincorporated area?
At no cost to you (it's free!), our County staff can help update your school's recycling program.  From the infrastructure to the administration to educating the students, we'll guide you along, step by step.  Other ways in which we can help include:
What if my school is located in a city?
Sometimes it's confusing to figure out if your school is in the unincorporated part of the county or within a city's jurisdiction. Don't worry, just email us or call (805) 882-3618 to clear things up. Some local cities, such as the City of Santa Barbara and the City of Lompoc, also provide school recycling programs. Click here for a listing of the City Recycling Contacts.
What is a waste audit?
A waste audit identifies strategies to reduce your waste, increase recycling, and save money. County staff can examine what types of materials are being thrown away and identify those that can be recycled. A full audit requires a campus tour and dumpster dive, but a quick version can be done with your waste collection records. Input from custodial and kitchen staff is also helpful.
What are my school's waste disposal costs?
A school's waste disposal costs are determined by how many containers it has and how frequently the containers are collected. Often these costs are paid by the school district and never seen by the school itself. Our County staff can contact your waste hauler and identify these costs for you. You can also access your community's trash rates by visiting the Resource Recovery & Waste Management Division website.
How much can I save by recycling?
In the County's unincorporated area, recycling is on average 36% cheaper than trash collection. Local cities also offer pricing incentives to encourage recycling.
What is a school or district-wide recycling plan?
The plan includes a description of all the actions the County and each individual school or district will perform to achieve a successful recycling program. These actions can include changing the waste collection infrastructure, rearranging the placement of recycling containers, education efforts, and tackling problem waste streams. The plan is tailored to each school's needs and is based upon the types of waste generated.
What education do you provide for students?
For many years, the County has partnered with the local non-profit agency, Explore Ecology, to provide hands-on education about the benefits of waste reduction, reuse, recycling, and composting. Explore Ecology offers in-class lessons and field trips, all of which are tailored to meet California's academic curriculum standards. It also operates a great reuse store, Art from Scrap, located in downtown Santa Barbara.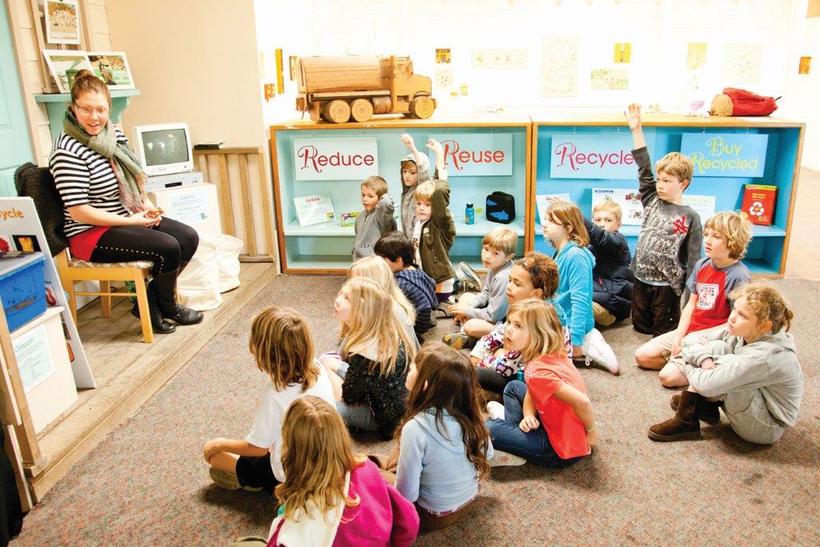 In the North County, Waste Management offers a mobile "Environmental Education Box" that travels to individual school sites. The traveling trailer is filled with information and activities related to recycling. Students particularly enjoy participating in the beverage can recycling drives to help earn money for their schools.
Both programs are free! Contact Explore Ecology at (805) 884-0459 or Waste Management at (805) 922-2121 to schedule a presentation.
Do you offer tours of the Tajiguas Landfill?
Yes, tours of the Tajiguas Landfill are offered year-round for free. For more information, please click here.
We also provide tours of the South Coast Recycling and Transfer Station. Click here for details.
How can we obtain recycling containers and outreach materials?
Not having a place to discard your recyclables can sure hinder a program's success. Take a look at our container page for more information about our indoor containers. A very limited supply of outdoor containers is also available for schools with a demonstrated need.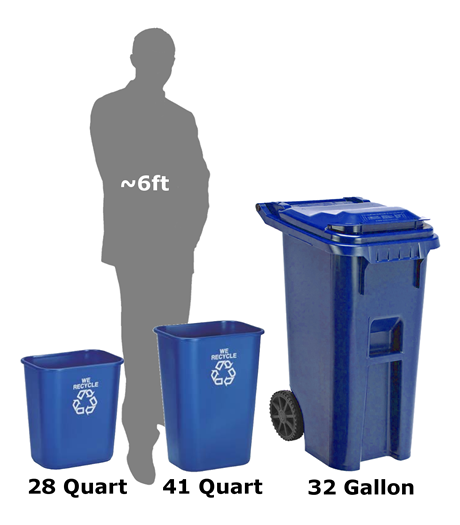 To help students understand what can and can't be recycled, the County offers posters, stickers, and magnets that identify what goes in the blue recycling containers. We also have numerous booklets and brochures about our individual programs. Take a look at what's available on our Recycling Outreach page.
What about recycling organic material?
Don't forget about organics! County staff would be happy to help your school develop a composting or food recovery program. Download our new Food Forward: School Edition book for details or read about the benefits of composting in our Composting ABCs booklet. Contact us if you're interested in implementing a program at your school.
Who do I contact if I have questions?
Sam Dickinson is your man. Call him at (805) 882-3618, e-mail him, or submit a question using our contact form.
Help us spread the word!
Feel free to download our one-page School Recycling Assistance flyer to pass along to your friends in the school community.
Where to go
Outside Santa Barbara County (1)
Related Materials
Related Articles