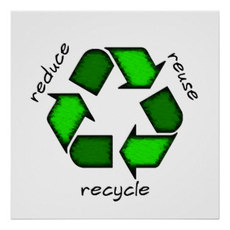 Reduce, Reuse, Recycle
Timeless wisdom when it comes to waste issues.
Keeping stuff from being thrown away doesn't start with recycling. Find ways to reduce your trash. Look for ways to reuse or repair items that still function. Explore recyclable items that can't go into your blue bin.
Refillable One-Pound Propane Cylinders
Single-use 1 LB propane containers are hazardous waste and should never be thrown away. When "empty," single-use cylinders often still contain a small amount of gas, which can cause an explosion if punctured or compressed. Don't worry, we have some good news for you.
Once only provided as single-use disposables, one-pound propane cylinders are now sold in reusable form. These small cylinders are commonly used to power camping stoves, lanterns, and landscaping equipment. Reusable 1 LB propane containers are great for a few reasons:
Reusables save money because you only pay for the gas and filling service, not the container!

Reusables can last up to 10 years and can be refilled hundreds of time.​
Reusables reduce the impact on landfills and the environment.
Read more about California's Refuel Your Fun campaign, which promotes the use of refillable one-pound cylinders, by clicking here.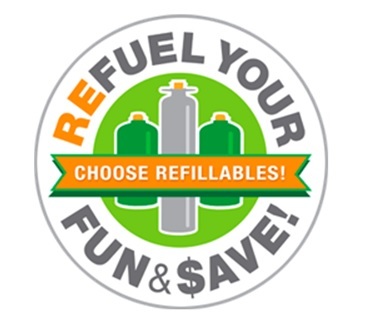 To find a local retailer, click on your region below.
Please call the retailer in advance to confirm their supply of refillable 1lb propane cylinders.
Where to go
Santa Barbara Area (2)

Goleta & UCSB Area (1)
Related Materials
Related Articles