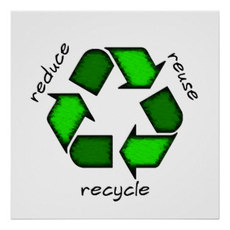 Reduce, Reuse, Recycle
Timeless wisdom when it comes to waste issues.
Keeping stuff from being thrown away doesn't start with recycling. Find ways to reduce your trash. Look for ways to reuse or repair items that still function. Explore recyclable items that can't go into your blue bin.
Reuse is when a product is used again in the same form and for the same purpose. It is one of the best ways to stop waste, and there are tons of opportunities to put it into practice every day.
This page is broken up into general tips and specific examples. If you think of some that we forgot, please contact us and we'll add them.
Consider Reusable Products
Single-use items are permanent products that become trash after only minutes of use. Do your best to choose reusable.
Select sturdy and washable utensils and tableware at home, picnics, and parties.
Use washable cloth napkins, sponges, and dish cloths.
Purchase refillable items.
Take only what you need if you have to use single use items (e.g. take only one paper napkin instead of a handful).
Maintain and Repair Durable Products
Keeping what we already have functioning not only saves money, it saves other resources too!
Research large purchases, such as appliances and televisions, to determine which are the most energy efficient, durable, and repairable.
Maintain and repair appliances, computers, and portable electronics.
Purchase high quality, long lasting tires for vehicles and bikes. Check pressure regularly and rotate tires to keep them in tip top shape.
Use durable and/or recycled construction materials.
Mend clothing and repair shoes, boots, handbags, and luggage whenever possible. LessIsMore.org will be adding more repairing services as time goes on.
Reuse Bags, Containers and Other Items
Bring your reusable shopping bag to the grocery store and beyond. If you do have single use bags, use them again!
Bring a reusable mug to the coffee shop.
Bring reusable takeout containers with you to restaurants (it saves them money!).
Pack lunches in a reusable bag with reusable food and drink containers.
Reuse containers and other materials for storage and crafts.
Reuse single-sided printed pages for scratch paper.
Find new homes for clothing and linens, or use them for rags, patchwork, and other projects.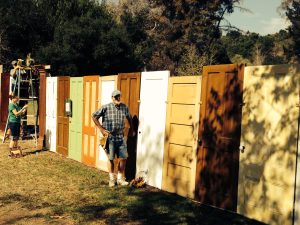 Check out our other reuse pages: books, computers and monitors, dental equipment, DVDs and CDs, electronics , furniture , household goods, jewelry , magazines , medical equipment, musical instruments, packaging materials, propane tanks, school supplies, scientific equipment, shoes , small appliances, sporting goods, tennis balls, toys , video games.
Borrow, Rent, and Share!
Many of us have tools and other items that we don't use on a regular basis. Consider sharing them with your neighbors and friends.  You can do so in a formal way through neighborgoods.net or informally with a handshake. Renting is also a great option. Good candidates include:
Power tools, ladders, and garden tillers
Boats and other outdoor equipment
Formal wear
Party decorations and supplies (tables etc.)
Audiovisual equipment
Sell or Donate Goods
Many of the reuse pages above list sites where you can resell your goods, but here are some other ideas:
Donate or sell items to thrift stores or organizations in need.
Sell secondhand items at fairs, swap meets, and garage sales.
Give used items to family members, neighbors, and the needy.
Where to go
Outside Santa Barbara County (3)
Related Materials
Related Articles
November 08, 2019 by Leslie Robinson -

Recycle

October 05, 2017 by Alan Nakashima -

Recycle

August 15, 2017 by Tom Chiarodit -

Recycle

July 13, 2020 by Kaitlyn Haberlin

July 30, 2023 by Kaitlyn Haberlin -

Organics

January 11, 2021 by Tori Kampmann