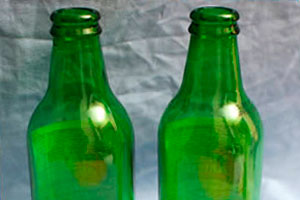 Place items in this section into your commingled recycling container if you have recycling service at your home, business, apartment or school.

You may also recycle glass at locations listed on this page.
Glass Containers

All glass containers are recyclable. Clear, brown, green, yellow, blue, big, small -- You name it! Feel free to place all types of glass bottles and jars in your recycling bin. Alternatively, you can take them to the recycling buyback centers or drop-off centers listed on this page.
What about windows, light bulbs, and drinking glasses?
While all glass is made out of the same basic materials (sand, ash, soda and lime), if you have a glass object that is not a standard glass container, you shouldn't place it in your recycling container. Glass made for other purposes, like windows and light bulbs, has different additives and coatings. These coatings make the glass break differently. A car window, for example, will break much differently than a glass container dropped on the floor.
What about jar and bottle tops?
Because jar tops are made out of metals and plastic, it's best to remove them if you want them to be recycled too. More tips are available on our Recycling FAQ page.
Should jars and bottles be cleaned?
It's always best if materials are cleaned before being put in your recycling bin. This helps to avoid contaminating any paper that might be mixed in with your glass. Don't worry about making your containers glisten, but a quick rinse and dry is helpful.
How do I get the CRV?
The California Redemption Value is available for beverage containers only. No jars. Some of the sites below are buyback centers, but not all of them. Check out our CRV Page for details, but if you see "California Redemption Value" on a location listed below, it should be a buyback center. Redeem away!
Where to go
Related Materials
Related Articles
November 08, 2019 by Leslie Robinson -

Recycle

October 05, 2017 by Alan Nakashima -

Recycle

June 03, 2019 by Carlyle Johnston

March 24, 2020 by Leslie Robinson

September 03, 2020 by Sam Dickinson -

Clean-Ups

November 10, 2021 by Kaitlyn Haberlin -

Recycle

January 11, 2021 by Tori Kampmann