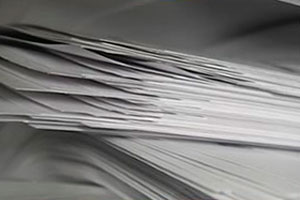 Paper Recycling
You may dispose of most paper items in your blue recycling bin. Paper is about 30% of all the waste we dispose of each year.

Find out about the many ways of disposing of paper below.
Paper
Paper is made from natural fibers, mostly wood. In addition to being easily recyclable, many paper products are also compostable and reusable. However, some papers are contaminated with food and other debris, making them non-recyclable. Take a peek below for specifics.
Recycle these:
Reduce and Reuse these:
Compost these:
Trash these:
Why recycle paper?
All recycling conserves materials and energy. To learn more about these benefits, check out our Why Recycle page.
Where to go
Related Materials
Related Articles
November 08, 2019 by Leslie Robinson -

Recycle

October 05, 2017 by Alan Nakashima -

Recycle

June 03, 2019 by Carlyle Johnston

March 24, 2020 by Leslie Robinson

November 10, 2021 by Kaitlyn Haberlin -

Recycle

January 11, 2021 by Tori Kampmann

March 10, 2023 by Tori Kampmann