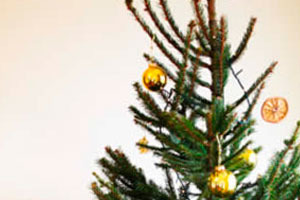 Read on for some of our favorite holiday waste reduction tips:
Choose LED holiday lights instead of traditional incandescents. If you're upgrading to LEDs and need to get rid of your old lights, find a recycling location on our Holiday Lights page.
Remember to unplug tree lights at night and when away from home.
Use reusable bags for holiday shopping. Tell store clerks you don't need a bag for small or oversized purchases.
Read a product's label to determine its recyclability and whether or not it's made from recycled materials. Buying products made from recycled materials supports manufacturers of such products and fosters markets for those materials.
Get creative when wrapping gifts. Try to avoid traditional wrapping paper in favor of "upcycled" newspapers, paper bags, and magazines, or choose reusable gift bags
Give gifts that don't require much packaging or wrapping. Think event tickets, gift cards, or gift certificates. Or consider a donation to a charitable organization on your loved one's behalf.
If you're gifting electronic gadgets or toys that require batteries, choose rechargeables and consider including a battery charger as well.
Choose greeting cards that can be sent electronically over paper cards. If you do send paper greeting cards, use cards made from recycled-content material to reduce the amount of virgin paper used.
Don't go overboard with holiday meals. Prevent that uncomfortable too-full feeling and reduce food scraps by cooking only what you and your guests can reasonably eat. Use this handy "Guest-imator" tool to help you figure out the right amount of food to prepare.
Lastly, but not least, recycle your old Christmas tree. No matter where you live in Santa Barbara County, it's free and easy! Just remember to cut trees over six feet in half and remove all ornaments, tinsel, and stands. Please note that flocked trees and trees with stands cannot be recycled. Read more on our Christmas Tree Recycling page.
You can find more helpful information on reducing holiday waste on the federal EPA's website.
Related Materials
Categories
Archives
Authors
Tags