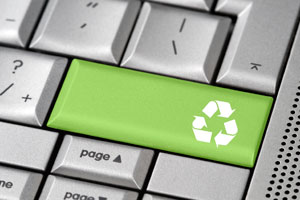 Electronic Waste Warning
If it plugs in, charges up, or takes batteries, it can't be disposed of in your trash because it could harm you or the environment. Find out about electronics regulations.
This section shows you how to recycle old electronic devices and related items like cables, DVDs and more.
Large Appliances

Did you know that large appliances like refrigerators, dishwashers, stoves, ovens, washing machines, and dryers are all recyclable? There's literally tons of metal to be reclaimed in these products. Some retailers will offer to recycle your old appliance when you purchase a new one. If this isn't an option, bring your appliance to one of the collection centers below.
What if my vehicle isn't big enough to transport the appliance?
If self-transporting your appliance is out of the question, call your trash hauler to see if they'll pick it up as part of their bulky item collection service. Most haulers offer one or two free pick-ups per year.
And while you're reducing waste...
Why not reduce your energy consumption, too!? When upgrading to a new appliance, consider buying an energy efficient model. Not only will you help save valuable natural resources, but you'll also save money on your monthly electricity, gas, and water bills.
Where to go
Related Materials
Related Articles