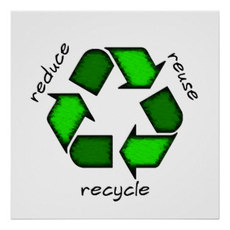 Reduce, Reuse, Recycle
Timeless wisdom when it comes to waste issues.
Keeping stuff from being thrown away doesn't start with recycling. Find ways to reduce your trash. Look for ways to reuse or repair items that still function. Explore recyclable items that can't go into your blue bin.
Children's Accessories Reuse

We all know how quickly kids grow up. If yours have outgrown their old clothes and toys, consider one of the options below to reuse the items.
And if you're the lucky new mom or dad of a little one (congratulations!), check out some of the listings below for inexpensive and eco-conscious ways to clothe your baby.
Where to go
Related Materials
Related Articles