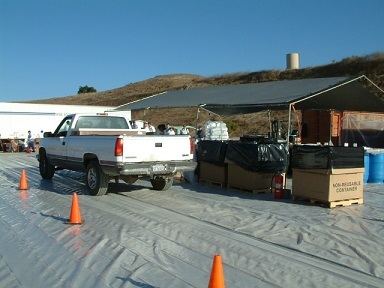 Cuyama Valley Event
Saturday, October 5, 2019 from 9:00 a.m. to 1:00 p.m. at the New Cuyama Transfer Station, 5073 Highway 166
Santa Ynez Valley Event
Sunday, October 6, 2019 from 9:00 a.m. to 2:00 p.m. at the Santa Ynez Valley Recycling and Transfer Station, 4004 Foxen Canyon Road in Los Olivos
Acceptable Items
Automotive Fluids – motor oil, oil filters, antifreeze, brake fluid, gasoline, etc.
Batteries – small household types as well as automotive
Cleaners
Fertilizer
Fluorescent Lights – tubes and bulbs
Medications – non-controlled substances only
Needles and other Home-Generated "Sharps" (must be delivered in rigid, puncture-proof containers)
Paint – latex and oil-based
Pesticides
Propane Tanks
Smoke Detectors – only those designated as "Ionization" or marked with an "I"
Solvent and Thinner
Electronics – computers, TVs, stereos, CD/DVD players, cell phones, printers, fax machines, scanners, copiers, cameras, video game systems, microwaves, etc.
And More!
Who's eligible to participate?
These special events are available to residents in the unincorporated area of Santa Barbara County (e.g. Cuyama, Ventucopa, Santa Ynez, Los Olivos, Los Alamos, Ballard) and the City of Solvang. Sorry, no Buellton residents. (Those in Buellton should instead bring their waste to the City's next household hazardous waste collection event.)
How much can I bring?
Bring up to 15 gallons or 125 pounds of waste per trip. Keep in mind that no trash or green waste will be accepted. And leave your biological, explosive, and radioactive materials at home (with the exception of smoke detectors).
More Information
For more information, please feel free to call us at (805) 882-3600 or send us an e-mail.
Related Materials
Categories
Archives
Authors
Tags