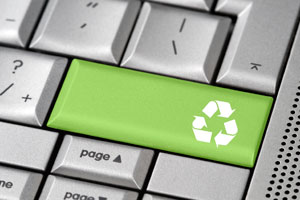 Electronic Waste Warning
If it plugs in, charges up, or takes batteries, it can't be disposed of in your trash because it could harm you or the environment. Find out about electronics regulations.
This section shows you how to recycle old electronic devices and related items like cables, DVDs and more.
There are lots of repairs you can do at home. Many online resources, listed in the "Outside Santa Barbara" section below, provide instructions on how to fix broken screens, replace cracked body components, and more. And you don't even need an engineering degree!
Some retailers, such as Apple, also provide repair services for their components. Often, this is cheaper than buying a new device.
Can I do it myself?
Repairing your own electronics is like car repair -- done right it can save you a bundle, and generate less trash too. Resources like ifixit.com can help make the job a lot easier. Check out all the do-it-yourself resources below. Just keep in mind that you're on your own if something goes wrong!
Repairing is much better than recycling because it generates less waste, uses less energy, generally costs less than replacement, and you learn a new skill. But be careful! LessIsMore.org and the County of Santa Barbara are not responsible for any damage done to your gizmo and cannot help with specific repairs. If you're worried you may make things worse, use one of the services below instead of doing it yourself.
Where to go
Related Materials
Related Articles