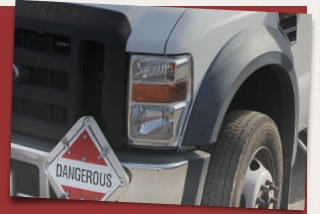 Hazardous Waste Warning
Wastes in this section are dangerous to you and the environment. Handle them carefully and dispose of them properly.

Legally small hazardous waste generators can only transport 15 gallons of wet or 125 pounds of dry hazardous materials at per month. If you have more waste than this, you need to use a Hazardous Waste Hauler like those listed on this page. Read about the regulation.
What if you have a lot of Hazardous Waste?
For businesses that are no longer considered Conditionally Exempt Small Quantity Generators (CESQGs), meaning they generate more than 27 gallons or 220 pounds of hazardous waste per month, the best option is to use a private hazardous waste hauler to pick up the waste.
The companies listed below accept a wide range of hazardous wastes, but not everything. Please take a look at their individual pages to see what they will and will not accept, and contact them directly if you have questions.
Where to go
All of Santa Barbara County (1)

Outside Santa Barbara County (6)
Related Materials
Related Articles