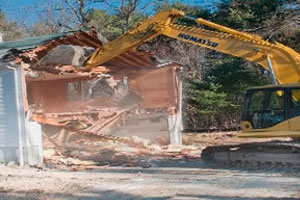 Construction & Demolition Recycling
Construction & Demolition (C&D) debris are generated during construction, remodeling, building repair, cleanup, or demolition.

C&D contains many different types of materials, most of which are recyclable at facilities listed in this section.
What is C&D?
C&D stands for "Construction and Demolition" and includes wastes generated from the construction, demolition, and remodeling of buildings and other large structures. Most of these materials are listed in our Reduce and Reuse section because they are recyclable, just not in your curbside blue bin.
C&D includes:
Construction Materials:

Floor and Ceiling Materials:

Road and Fill Materials:

Metals (recycling section):
What about Paint or Fluorescent Lights?

Construction projects will often produce materials that require special handling. Some examples include:
What about plastic pipes?
PVC pipes are hard plastic but not recyclable locally. The pipes often can be reused. While we work to identify recycling options for PVC, the pipes should be disposed of in the trash.
Where to go
Related Materials
Related Articles