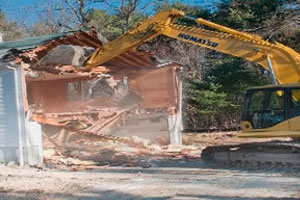 Construction & Demolition Recycling
Construction & Demolition (C&D) debris are generated during construction, remodeling, building repair, cleanup, or demolition.

C&D contains many different types of materials, most of which are recyclable at facilities listed in this section.
What is C&D?
Construction and demolition (C&D) debris consists of waste that is generated during the construction, remodeling or demolition of buildings and roads. C&D materials typically include heavy and bulky items like concrete, bricks, metals, glass and lumber. C&D materials can also include salvaged building components like doors, appliances, fixtures, hardware, and windows.
The County of Santa Barbara has a number of policies in place to promote the recycling and reuse of C&D debris. In 2011, the County adopted the State's Green Building Standards which require all C&D generated from any construction project to be recycled at a minimum of 50%.
For larger construction, remodeling, or demolition projects (those expected to generate more than 350 tons of waste) the Public Works Department requires a Solid Waste Management Plan to ensure that C&D debris is diverted away from our landfill.
For smaller projects (those expected to generate less than 350 tons of waste) the Planning & Development Department may require a Construction Waste Management Plan.
The County also requires companies that rent roll-offs for construction sites to recycle a minimum of 50% of all material collected.
For more information about where you can take your C&D debris for recycling in Santa Barbara County, find your particular item(s) in the list of "Related Materials" on the right or try page 30 of our Recycling Resource Guide.
Please note that certain types of wood cannot be recycled along with other C&D debris and will be charged at the trash rate at the County's facilities. These wood types include plywood, particle board, press board, painted wood, laminated wood, varnished wood, and treated wood.
For more information about where you can take your salvaged items for reuse, such as doors, bathroom appliances, light fixtures, or hardware, again check the "Related Materials" section in the right-hand column or see page 43 of the Recycling Resource Guide.
Through these C&D programs and resources, our community currently recycles more than three quarters of our C&D waste! For more information about any aspect of C&D recycling, please contact Carlyle Johnston at (805) 882-3617 or send him an e-mail.
C&D includes:
Construction Materials:

Floor and Ceiling Materials:

Road and Fill Materials:

Metals (recycling section):
What about Paint or Fluorescent Lights?

Construction projects will often produce materials that require special handling. Some examples include:
What about plastic pipes?
PVC pipes are hard plastic but not recyclable locally. The pipes often can be reused. While we work to identify recycling options for PVC, the pipes should be disposed of in the trash.
Where to go
Related Materials
Related Articles