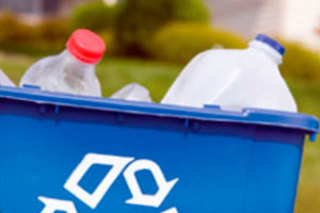 Recycling
This section has everything you need to know about recycling at your home, business, apartment or school. If you're not sure how to recycle a particular item, find it in the list below or use our search bar at the top of the page.
For decades steel has been one of the most recycled materials. In fact, depending on the type of steel, 80-100% of the steel in the product has already been recycled! Keep up this good work and keep your steel out of the trash.
What about stainless steel?
There are several different alloys called steel, including stainless. Don't worry; they're all recyclable, so throw them in your blue bin.
What about cans?
Steel cans are probably the most common recyclable steel. Just remember, partially full Aerosol Cans are hazardous waste.
What if I have rebar or large scraps?
Large scraps can be taken to many of the locations listed below. If in doubt, just give them a call. Also, if you have appliances made out of steel, please take a look at our large appliance and small appliance pages to properly dispose of them.
Where to go
Related Materials
Related Articles
November 08, 2019 by Leslie Robinson -

Recycle

October 05, 2017 by Alan Nakashima -

Recycle

June 03, 2019 by Carlyle Johnston

March 24, 2020 by Leslie Robinson

November 10, 2021 by Kaitlyn Haberlin -

Recycle

January 11, 2021 by Tori Kampmann

February 02, 2022 by Tori Kampmann