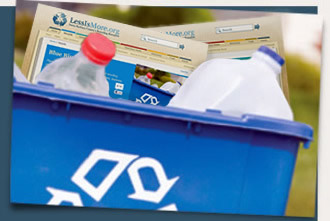 Virtual Waste Reduction Library
If you're interested in a complete library of waste management content, you've come to the right place! This is your one-stop shop for all of our waste reduction and recycling educational resources. You can also access resources that cover the ReSource Center Materials Recovery Facility (MRF) and Anaerobic Digestion Facility (ADF). The information is sorted for your convenience. Enjoy!
Skip ahead to any of these sections:
For resources specifically geared towards teachers and classrooms, please visit our Teacher Resources page.
General Waste Information
Firstly, the Environmental Protection Agency (EPA) has a ton of resources and data on waste. The following two articles could fit in every category we cover here, so we recommend you start with these.
The EPA created the Waste Reduction Model (WARM) to help solid waste planners and organizations track and voluntarily report greenhouse gas (GHG) emissions reductions, energy savings, and economic impacts from several different waste management practices. WARM calculates and totals these impacts from baseline and alternative waste management practices—source reduction, recycling, anaerobic digestion, combustion, composting and landfilling. Click here to access the WARM tool.
The EPA also has a database of 35 years worth of waste and recycling trends to measure the success of recycling programs. Click here to visit the "National Overview: Facts and Figures on Materials, Wastes and Recycling."
Reduce
What if we refused trash? Let's see ourselves as part of the solution by using our voice and saying, "No, thank you!" to unwanted materials. When we reduce our consumption we naturally create less waste. Check out these videos on awesome tricks and tips on reducing waste.
The Three R's Song (Chelsea Woolhouse- ages 7-11) 
Japan's Town With No Waste (Great Big Story)
How to reduce your waste (TEDxVenlo)
Refuse, the 5 R's of a Zero waste Lifestyle
Reuse
Borrow, lend, trade, repair, you name it! Reusing is one of the best ways we can produce less waste. Check out the crafty reuse videos below.
Reuse | The 5Rs of a Zero Waste Lifestyle
Let's Get Crafty: DIY no sew T-shirt tote bag!
The Art of Reuse: Rethinking our Waste through Creativity (TEDxOgden)
Recycle
Leachate? Inorganic? Recycling lingo can get complicated, so click here for a glossary of recycling terms. The videos below provide more information on the state of recycling today.
The South Coast Recycling and Transfer Station
Recycle | The 5Rs of a Zero Waste Lifestyle
Recycling Batteries in Santa Barbara County
Is Recycling Worth It Anymore? The Truth Is Complicated
Anaerobic Digestion Facility
Anaerobic digestion facility? ADF? What does that mean? How does it work? Anaerobic digestion is a new way we are breaking down organics. The EPA lays it all out in this article.
Santa Barbara County has its own ADF. Read about our facility in the article "Renewable Energy Project Aims to Raise Santa Barbara Diversions Rate Above 85%." Check out the video below for an inside look at Santa Barbara County's own ADF.
Materials Recovery Facility
Similar to an ADF, a Materials Recovery Facility, or MRF, is another advanced way we are handling our waste. Santa Barbara County operates a MRF along with an ADF at the ReSource Center. Check out the videos below to learn more about how they work.
How Does a Material Recovery Facility (MRF) work?
Amazing Virtual Tour of a Recycling Facility
Single Stream Recycling – Tour a Materials Recovery Facility (MRF)
Composting
Composting is a magical process. Check out the resources below to learn just how cool compost can be.
But first, complete this fun "Composting Worksheet" to test your composting knowledge.
Rot | The 5Rs of a Zero Waste Lifestyle
Plastic
Plastic. It's everywhere, so we must learn how to manage it. The article "A Plateful of Plastic: Visualizing the amount of microplastic we eat" goes into just how much plastic is around us. The videos below provide even more information on plastics.
Life in Plastic- California's Recycling Woes
The Story of Plastic (Animated short)
The Story of Plastic: Where Your Recycled Plastic Ends Up
Waste and Trash
No matter how well we practice the R's, we all create trash. Learn more about the ways to reduce and manage our trash in the videos below.
Replace the Waste (Explore Ecology)
Landfills
As long as we produce trash, we'll need landfills. Test your landfill knowledge and take this quiz! Want more information? Check out the video below.
Climate Change
The following two videos provide an inspirational take on climate change and how we can avoid future climate disasters.
CGI Award Winning 3D Animated Short: Espero (Hope) by Team Espero
Related Materials
Related Articles