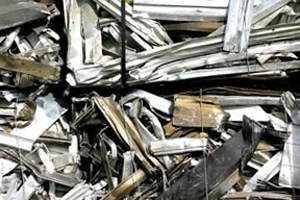 Aluminum Scrap
Place items in this section into your commingled recycling container if you have recycling service at your home, business, apartment or school.

You may also recycle larger pieces at locations listed on this page.
Aluminum is a lightweight, silver metal. Many everyday items, like pots and pans, are made primarily out of aluminum. If they aren't electronics (like small appliances), they become aluminum scrap when no longer wanted. Put small pieces of unwanted aluminum into your recycling bin.
What about aluminum foil?

Clean aluminum foil and pie plates can be recycled at home, too; however, if food is baked on, it's best to throw it in the trash. Read more tips on our Recycling FAQ page.
What about industrial scrap?

If you have large pieces of aluminum scrap or too much to place in your recycling bin, please take them to the locations listed on this page. Some of these locations will even pay for large amounts of scrap aluminum! Others will accept foil, but don't expect a big payout. Always call ahead to find out details.
Why recycle aluminum?
Glad you asked! Recycling aluminum saves tons of energy in addition to keeping the metal out of the landfill. Find out more on our Why Recycle page.
Where to go
Related Materials
Related Articles
November 08, 2019 by Leslie Robinson -

Recycle

October 05, 2017 by Alan Nakashima -

Recycle

June 03, 2019 by Carlyle Johnston

November 10, 2021 by Kaitlyn Haberlin -

Recycle

January 11, 2021 by Tori Kampmann

March 10, 2023 by Tori Kampmann