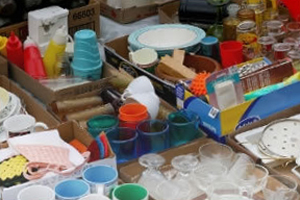 Decorations, lamps, and other stuff can be reused too!
Listed here are sites that collect a wide variety of reusable household goods - all those miscellaneous "things".

Be sure to check ahead if you have any questions.
As you clean out all that stuff around the house, don't reach for the garbage bags just yet. If what you have is still usable, chances are someone wants it.
What materials are we talking about?
This category catches a lot of common household items:
Holiday Decorations
Toys and Games
Lamps
Linens
Luggage
Ceramics and Dishware
Decorative Items
Also be sure to check out the Related Materials in the side bar for similar goods.
Where to go
Related Materials
Related Articles