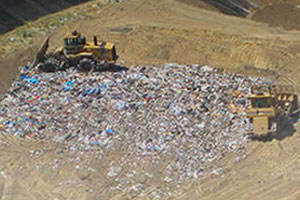 Trash: Landfill Bound
Unfortunately there are still materials we can't avoid throwing away. This section contains information about what items are trash, why they are trash, and what happens to trash in Santa Barbara County.
Sometimes what we call paper is actually a mix of paper and something unrecyclable. A great example is ATM receipts. The receipts are made from thermopaper that is coated in plastic and a metal or dye that reacts to heat.
Mixed or Coated Papers
These types of containers actually have two layers of plastic, a layer of metal, and a layer of paper. Because the different layers are bonded together so tightly, they're very difficult to separate and recycle. Other types of mixed papers include:
ATM and other waxy-like receipts
Carbon paper
Food or Liquid Contaminated Papers

Paper products that are designed to come into contact with food or liquid are generally not recyclable, since the residue from the food or liquid contaminates the paper. Examples include:
Paper towels, tissues, and toilet paper
Paper plates and dirty pizza boxes
Paper cups (including coffee cups)
Do I really need to trash these? Won't they get recycled?
These papers should be treated as trash because they contaminate other recyclable types of paper. One greasy plate or plastic coated product can contaminate a whole stack of clean office paper. Keep it out, and it will keep the recycling programs healthy.
Don't get discouraged; check out the "related materials" in the sidebar for all sorts of paper that CAN be recycled.
Where to go
Related Materials
Related Articles