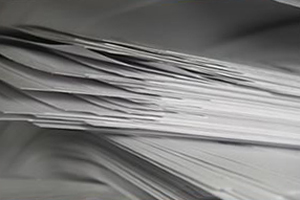 White Paper and Computer Paper Recycling
This section has everything you need to know about recycling at your home, business, apartment or school. If you're not sure how to recycle a particular item, find it in the list below or use our search bar at the top of the page.
White Paper and Computer Paper Recycling
This most basic type of paper is most definitely recyclable. If you've printed on it, written on it, or drawn on it, throw it into your recycling bin. Make sure to include paper from older printers, too (like the kind with those tiny hole punches along the edge).
What about laminated paper?
Laminated paper would be considered paper trash. All that plastic on the outside makes it unrecyclable.
What about sensitive documents?
If you're concerned about security at your home or business, check out our document shredding page.
Where to go
All of Santa Barbara County (1)

Santa Barbara Area (2)

Goleta & UCSB Area (1)

Santa Ynez Valley (2)

Lompoc Valley & VAFB (1)

Santa Maria Valley (2)

Cuyama Valley (1)

Outside Santa Barbara County (2)
Related Materials
Related Articles