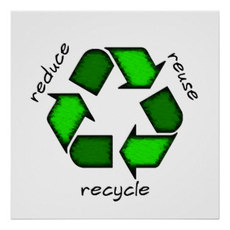 Reduce, Reuse, Recycle
Timeless wisdom when it comes to waste issues.
Keeping stuff from being thrown away doesn't start with recycling. Find ways to reduce your trash. Look for ways to reuse or repair items that still function. Explore recyclable items that can't go into your blue bin.
Magazines are great sources of cutting edge information. Even months later, the information found in them still holds its value. Because of this, libraries and other establishments will accept certain magazines for their patrons to peruse. Of course, you can also share magazines with your friends, officemates, or neighborhood barber, doctor or dentist. Some magazines retain value so well you can even resell them!
Where to go
Related Materials
Related Articles