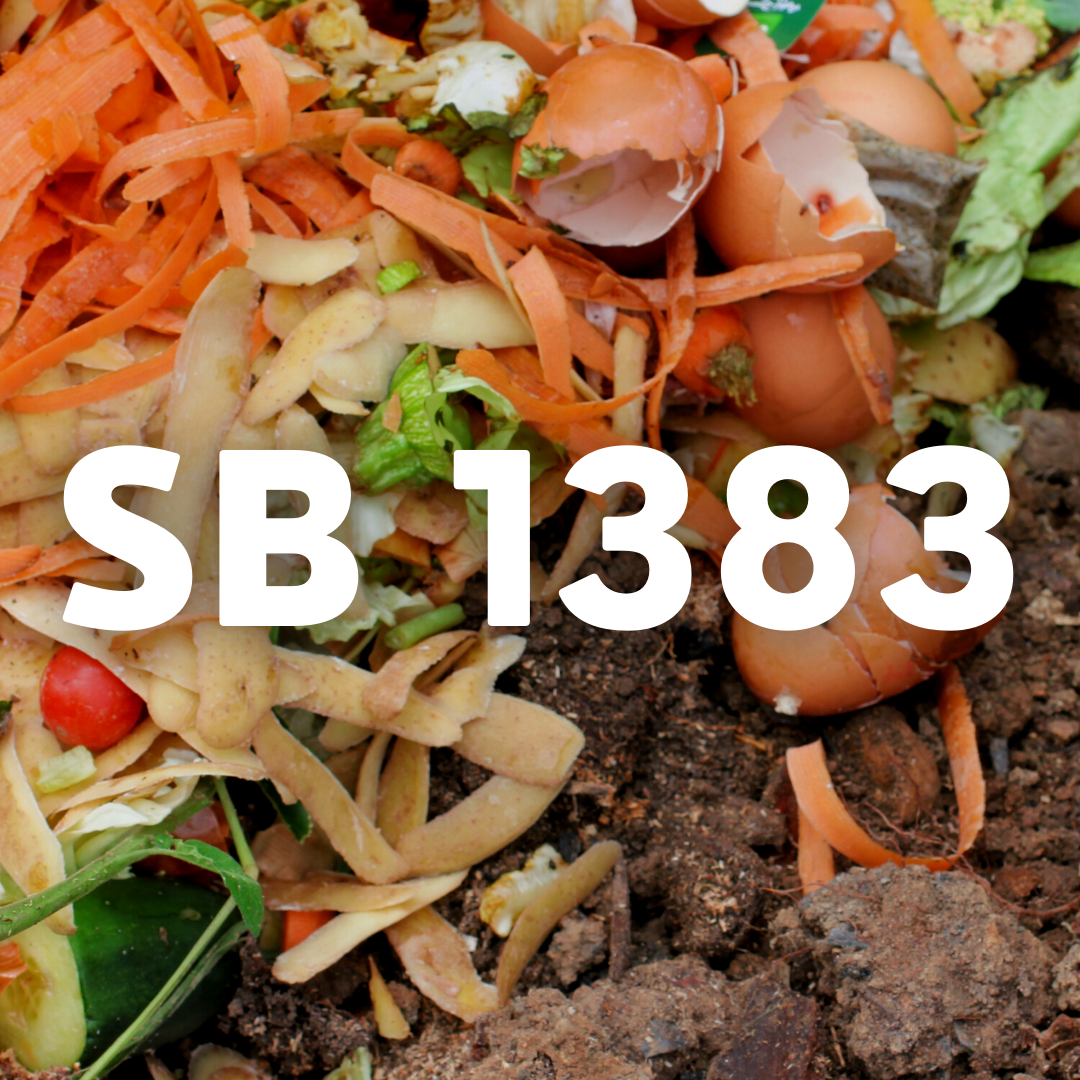 SB 1383 & Non-Local Entity Requirements
SB 1383 is a California bill aimed at reducing methane emissions through the increased recycling of organic waste. The regulations require a 50% reduction statewide in the disposal of organic waste by 2020 and a 75% reduction by 2025. Additionally, SB 1383 mandates that 20% of currently disposed edible food be recovered for human consumption by 2025.
Under SB 1383, a Non-Local Entity is defined as "an entity that is an organic waste generator but is not subject to the control of a jurisdiction's regulations related to solid waste. These entities may include, but are not limited to, special districts, federal facilities, prisons, facilities operated by the state parks system, public universities, including community colleges, county fairgrounds, and state agencies."
Non-Local Entities will be required to recycle organic waste and donate surplus edible food if they fit the food donor requirements.
Organics Recycling for Non-Local Entities:
Organic waste is solid waste containing material originated from living organisms and their metabolic waste products including, but not limited to, food, green material, landscape, and pruning waste, organic textiles and carpets, lumber, wood, paper products, printing and writing paper, manure, biosolids, digestate, and sludges.
Organics Collection Requirements:
Subscribe to an organic waste collection service or self-haul organic waste to a recovery facility
Provide containers for the collection of organic waste and non-organic recyclables in all areas where disposal containers are located
Prohibit employees from placing organic waste in a container not designated for organic waste
Periodically inspect containers for contamination and inform employees if containers are contaminated
Provide information to employees on methods for prevention of organic waste generation
Click here for information on subscribing to commercial organics services.
You may be waived from this responsibility. If you think you will be waived from organics recycling, contact us.
Food Recovery for Non-Local Entities:
Many Non-Local Entities include facilities that would be required to donate edible food under SB 1383. If a non-local entity is operating any of the following facility types, they will be required to implement a food recovery program. The majority of Non-Local Entities will fall within the Tier 2 category.
Tier 1
Required to donate starting January 1, 2022
Supermarkets
Grocery stores with facilities ≥ 10,000 sq. ft.
Food service providers
Food distributors
Wholesale food vendors
Tier 2
Required to donate starting January 1, 2024
Restaurants with facilities ≥ 5,000 sq. ft. or 250+ seats
Hotels with an on-site food facility and 200+ rooms
Health facilities with an on-site food facility and 100+ beds
Large venues and events
State agency cafeterias with facilities ≥ 5,000 sq. ft. or 250+ seats
Local Education Agency with an on-site food facility
There are two main requirements for edible food donors:
Establishing written agreements with food recovery organizations and services
Recordkeeping and reporting
For more information on developing a food recovery program, check out our SB 1383 Food Recovery page.
For a more in-depth look at the requirements for non-local entities, check out this informational packet that was created by the County's Resource Recovery and Waste Management Division.
Related Materials
Related Articles
January 20, 2022 by Kaitlyn Haberlin -

Organics

May 19, 2022 by Mackie Forgey -

Organics