In our brand new waste reduction and composting booklet, Composting ABC's, we take waste reduction to a whole new level...in a very easy way.
If you're interested in learning how to reduce your food and yard waste, and also learn two different methods of composting, this is the booklet for you!
Download Composting ABC's here or contact us if you'd like a hard copy (Santa Barbara County residents only please).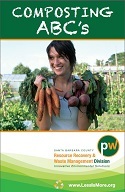 Also be sure to visit our Home Composting page for tons of helpful information about reducing organic waste.
Related Materials
Categories
Archives
Authors
Tags