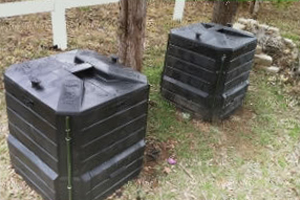 The Wide World of Compost Bins
Composting Bins come in all shapes, sizes and functions. You have your static bins, square bins, round bins, tumbling bins... you get the idea.

The locations on this page sell a variety of composting bins at retail prices.
All aerobic bins, the ones most people think of when they're talking about compost, need to have their material aerated regularly to keep the compost "cooking." Some bins are designed to make this process a little easier by tumbling, while others are just static bins that require manual turning. As you can probably guess, the bins that do the work for you cost a bit more.
Check out the sites below if you want a composting bin other than our Discounted Earth Machine Composting Bin. If you're looking for worm composting resources, check out our Worm Composting Page.
What about actually composting?
For details on how to use your shiny new composting bin, check out our Home Composting Page.
Where to go
Related Materials
Related Articles