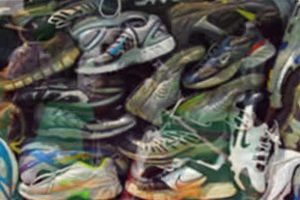 Athletic Shoe Recycling
If your old shoes are beyond repair, give them a useful second life. Usable shoes can be taken to locations in our Clothing Reuse page.
Reuse-A-Shoe Program
Due to COVID-19 precautions, this program is temporarily on hold. Please call each location to check program availability before visiting.
Through its Reuse-A-Shoe Program, Nike collects athletic shoes of any kind and any brand and grinds them up to recover their materials. Nike then donates these materials to communities around the world:
Ground rubber from the outsole is used for soccer, football, and baseball fields, as well as weight room flooring
Ground foam from the midsole is used for synthetic basketball courts, tennis courts, and playground surface tiles
Fabric from the upper portion of the shoes is used as padding for use under hardwood basketball floors
If you have information about other shoe recycling programs, please contact us so we can include it here.
Where to go
Related Materials
Related Articles
November 08, 2019 by Leslie Robinson -

Recycle

January 11, 2021 by Tori Kampmann