Why Green, Why Now?
The past two years have been tough for small businesses. We are excited to share some good news for a change! Most businesses in Santa Barbara County are now eligible for $500 in incentives to help reduce their operational costs and become a certified Green Business. The Sustainable Business Challenge is a great opportunity to start reaping benefits now as your business gets started on its sustainability journey!
Business owners/managers can sign up for a free half-hour info session at bit.ly/SBCv22 today!
The Sustainable Business Challenge
At each session, the host will review the basics of the challenge and help business owners determine the first steps to take to successfully certify their business. Any business that is not currently certified as a Green Business is eligible to attend and there is no cost to participate.
Sessions will include details about the benefits of joining this challenge, including 15 hours of free technical support and a $500 incentive. The $500 incentive will be cash given to the first 20 challengers that get certified. The other successful challengers will be guaranteed up to $500 for approved purchases.
Please note this is a time-sensitive offer. Our deadline to enroll in the challenge is Tuesday, March 29th, 2022 and there are only 100 spots available. So sign up today!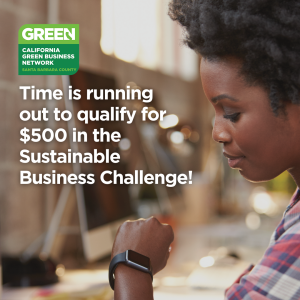 RSVP Links
Information Session Sign-Up (English):
https://bit.ly/SBCv22
Information Session Sign-Up (Spanish): https://bit.ly/SBCvES
Please contact Brooke Wright at bwright@environmentalin.com for more information or if you need to schedule a time outside of the info sessions listed on the RSVP links.
Related Materials
Categories
Archives
Authors
Tags