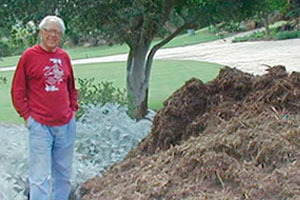 Beginning on January 11, 2021, eucalyptus and oleander (and all poisonous vegetation!) must be separated from general green waste and be trashed.
When disposing of green waste at a County Facility: Separate eucalyptus and oleander from your green waste load. You can place it on top so it is pulled off first, set it to one side, or bag it. If it is not separated, the entire load will be charged as municipal solid waste.
At your home or business: Simply place eucalyptus and oleander in your trash bins. For a complete list of what can and can't go in your green bin, check out our Yard Waste page.
Because our green waste is used to create mulch, these materials will contaminate the whole pile. Eucalyptus and oleander produce toxins that can harm us and our plant and animal friends.
Click here for more information about County waste facilities and rates.
Related Materials
Categories
Archives
Authors
Tags