The California Green Business Network are excited to announce our first ever statewide challenge! Most businesses in Santa Barbara County are now eligible for $500 in incentives to help reduce their operational costs and become a certified Green Business. Start off the new year with a resolution to be green, and get certified by Earth Day 2023! The Sustainable Business Challenge is a great opportunity to start reaping benefits now as your business gets started on its sustainability journey.
Business owners/managers can sign up for a free half-hour info session at bit.ly/earthday23 today! ¿Prefieres un taller en Español? Regístrese en bit.ly/DíadelaTierra2023!
At each session, the host will review the basics of the challenge and help business owners determine the first steps to take to successfully certify their business. Any business that is not currently certified as a Green Business is eligible to attend and there is no cost to participate.
Sessions will include details about the benefits of joining this challenge, including priority technical support and $500 or more in rebates.
Please note this is a time-sensitive offer. Our deadline to enroll in the challenge is January 31st, 2023, and there are only 100 spots available. So sign up today!
Please contact Brooke Wright at bwright@environmentalin.com for more information or if you need to schedule a time outside of the info sessions listed on the RSVP links.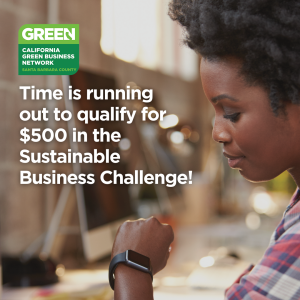 Categories
Archives
Authors
Tags