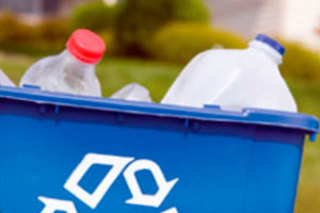 Recycling
This section has everything you need to know about recycling at your home, business, apartment or school. If you're not sure how to recycle a particular item, find it in the list below or use our search bar at the top of the page.
Metal Cans

All metal cans are infinitely recyclable. It doesn't matter if they are aluminum drink cans or tin, steel, or bi-metal food cans. Go ahead and throw them into your recycling bin.
What about aerosol cans?
Empty aerosol cans are recyclable and can be put in your blue bin. However, if any contents remain, they are considered Hazardous Waste and should be disposed of at one of the locations listed on our Aerosol Cans page.
What about CRV cans?
Beverage containers, such as aluminum soda cans, are subject to the California Redemption Value (CRV). This is not the case for food cans though. Read our CRV Page for more details.
How clean should the cans be?
Cleaning is recommended for all food and drink containers, as food and liquids can contaminate the paper in your commingled recycling bin. Don't worry about making them spotless, and avoid cuts, but a quick rinse is always good.
Where to go
Related Materials
Related Articles
November 08, 2019 by Leslie Robinson -

Recycle

June 03, 2019 by Carlyle Johnston

March 24, 2020 by Leslie Robinson

February 02, 2022 by Tori Kampmann

March 10, 2023 by Tori Kampmann