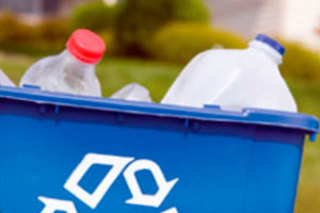 Recycling
This section has everything you need to know about recycling at your home, business, apartment or school. If you're not sure how to recycle a particular item, find it in the list below or use our search bar at the top of the page.
Tin is a soft silver metal used in several alloys. The most notable is pewter, which is 85-99% tin.
What about tin cans?

Most people think "tin cans" are tin, but they're actually made of steel, sometimes with a thin coating of tin. Coated with tin or not, metal cans of all types are recyclable.
What about tin foil?
Just like "tin cans", "tin foil" is actually Aluminum Foil. We are happy to take foil whatever you call it!
What about solder?
Lead-free solder is actually mostly tin. It's recyclable as well.
What about large pieces?
The locations below accept large as well as small pieces of tin.
Where to go
Related Materials
Related Articles
November 08, 2019 by Leslie Robinson -

Recycle

June 03, 2019 by Carlyle Johnston

March 24, 2020 by Leslie Robinson

January 11, 2021 by Tori Kampmann