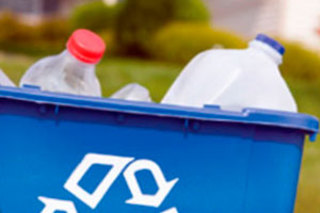 Recycling
This section has everything you need to know about recycling at your home, business, apartment or school.
If you're not sure how to recycle a particular item, find it in the list below or use our search bar at the top of the page.
Cardboard

Don't be fooled by these rigid packaging products; they're just a different form of paper. If you have clean cardboard or paperboard items, please recycle them at home or at the locations below.
What about clean moving boxes?
If you have boxes that are good enough to reuse, please check out our Packaging Material Reuse page.
What about pizza boxes?
Ok, you got us. Dirty pizza boxes are not recyclable because the oil from the cheese contaminates the paper, making it useless for recycling. This is true for dirty paper plates as well. Clean cardboard is what we are talking about.
What else isn't recyclable?
In addition to food-contaminated pizza boxes, some types of cardboard are waxed or coated in plastic. Other than cartons for milk or soup or Tetra-Pak containers, most paper with plastic coating is paper trash. Examples include containers for take-out of food and frozen foods.
Where to go
Related Materials
Related Articles