Indoor Recycling Containers
Recycling containers are available for free to County offices and schools. If you need more outdoor containers for your curbside collection program, please contact your Waste Hauler directly.
Got Bins?
Nothing slows down a recycling program like not having a place to put the recyclables. The County of Santa Barbara provides free indoor recycling containers to county offices and schools in the area. The number of containers will be determined by the organization's need and the County's budget constraints. Unfortunately, we can't give these things away like Oprah gives away cars!
All containers are made out of recycled and recyclable blue plastic.
What about outdoor containers?
If you need more containers for your curbside collection program, please contact your waste hauler directly. If your campus needs outdoor containers that aren't collected by waste haulers, please contact us.
What size recycling bins are available?
In general we have three sizes:
The under desk size (28 quarts)
The kitchen waste basket size (41 quarts)
The rolling cart (32 gallons)
View the highly technical picture below for an idea of scale.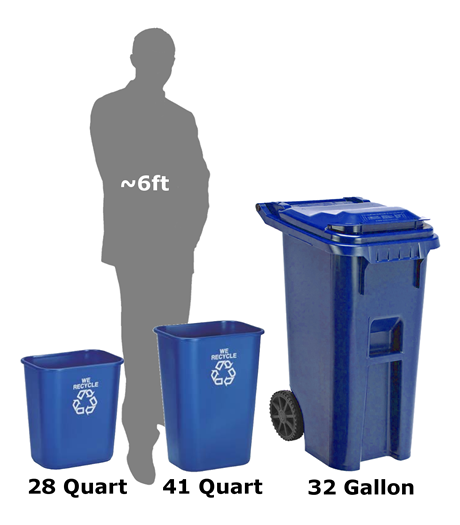 How do I get the bins?
If you're in the County, give us a call! Our phone number is at the bottom of every page. If you prefer, you can send us an email. Please be sure to include the word "Containers" in the subject line and the name and address of your organization in the message.
Once we have your information, we'll work together to figure out how many bins are appropriate for your location and we'll arrange for pick-up or delivery of the containers.  If you aren't eligible for this program, it is often because you're located in one of our local cities, so we'll refer you to them instead. The cities often have containers available as well.
Where to go
Outside Santa Barbara County (1)
Related Materials
Related Articles