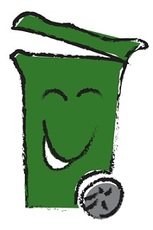 Yard Waste Recycling
Yard waste recycling is the unsung hero of recycling programs. Putting waste into your green bin at home or work is a great way to divert waste from the landfill.

Check out the info below on what can and can't go in your green bin.
This recycling loop starts by putting your yard trimmings in a green waste container. Clean green materials are taken to county facilities where they're processed and ground into mulch. The loop is completed when you use that mulch around your plants to return nutrients to the soil.
Give your yard waste a second chance at life – Recycle it!
What can I put in the Green Bin?
Green waste consists of leaves, grass clippings, other yard trimmings, and plant materials. No food waste, wood ash, soil, or old plant pots and hoses, please! Some types of plants are unacceptable, too. Learn more by reading our Green Waste Do's and Don'ts. Here's the short version:
Yes:
Grass clippings (but you can also leave these on the lawn)
Leaves
Small branches
Flowers
Ivy
Plants
No (Trash these):
Palm fronds
Pampas grass
Food
Animal waste
Plastic bags or pots
Dirt, rocks, or smelly socks!
Fibrous plants should not be thrown into green waste containers, since they jam the grinders at our facilities that are used to produce mulch.
Our Greenwaste Songs!

We also have Award Winning Songs that can help you figure out what can and can't go in your green waste bin. You'll need Windows Media Player or a similar program to listen to them:
Green Waste Blues.WMA
Green Waste Ragtime.WMA
What if I self-haul?
The sites listed below accept yard waste, but you'll have to pay a fee. For instance, at the South Coast Recycling & Transfer Station, a load of clean yard waste is $28 per ton. That's a lot less than trash disposal though!
If you have any questions about yard waste recycling, please contact us or call (805) 882-3624.
Where to go
Related Materials
Related Articles