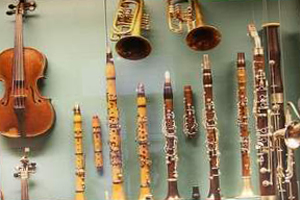 Let the music play on, play on, play on...
Musical instruments are often finely crafted and built to last through many jam sessions.

Even if the band broke up, keep the music playing by reselling your instrument.
For as long as music has existed, students have been using second-hand instruments to learn how to play. Some instruments actually increase in value as time goes on. Whatever your reason for getting rid of your musical instrument, if it still works give someone else a chance to pick it up.
What about buying or repairing used musical instruments?
Many of these sites sell the used instruments as well. Buying from these locations is a great way to keep materials out of the landfill. Similarly, these locations may be able to repair your instrument. Contact the locations directly for information.
Where to go
All of Santa Barbara County (3)

Santa Barbara Area (3)

Goleta & UCSB Area (2)

Santa Ynez Valley (4)

Lompoc Valley & VAFB (1)

Santa Maria Valley (5)

Outside Santa Barbara County (1)
Related Materials
Related Articles