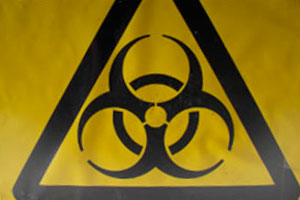 Hazardous Waste Warning
Wastes in this section are dangerous to you and the environment. Handle them carefully and dispose of them properly.
Legally, households may not transport more than 15 gallons of wet or 125 pounds of dry hazardous materials.
Read about the regulation
.
Treated Wood
Treated wood, commonly used in fence posts, decking, and landscaping projects, contains chemicals to protect the wood from insects and fungal decay. Among these chemicals are arsenic, chromium, copper, and creosote. While they do a great job preserving the wood, the chemicals are anything but great if they end up in our environment. The facilities listed below will properly manage your treated wood waste (TWW). Beginning January 1, 2021, regulatory changes have limited the types of facilities that are able to accept treated wood waste. We will update our locations list as we find more locations accepting this waste. The County is actively working to obtain the new certification needed to once again accept TWW. Please
see our flyer
for additional information. Additionally, the California Department of Toxic Substances Control (DTSC) released
this information sheet
to help answer any questions regarding TWW.
Where to go
Outside Santa Barbara County (1)
Related Materials
Related Articles
March 23, 2020 by Leslie Robinson

November 08, 2019 by Leslie Robinson -

Recycle

September 30, 2019 by Leslie Robinson

April 19, 2019 by Leslie Robinson

October 05, 2017 by Alan Nakashima -

Recycle