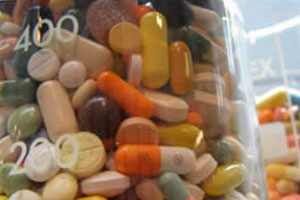 Hazardous Waste Warning
Wastes in this section are dangerous to you and the environment. Handle them carefully and dispose of them properly.
Legally, households may not transport more than 15 gallons of wet or 125 pounds of dry hazardous materials. Read about the regulation.
Click below to watch our Medication Disposal video:
Household Medications
Please don't flush old medications down the drain. Wastewater treatment facilities are not able to remove many of the chemicals that make up pharmaceutical products. If released into water bodies, these pharmaceutical byproducts can adversely impact wildlife and the environment.
So if I can't put meds down the drain, what should I do with them?
In June 2016, the County Board of Supervisors passed an ordinance that requires pharmaceutical manufacturers that sell product in our county to establish and fund a free collection program for unwanted household medications. MED-Project, the organization implementing the program on behalf of the pharmaceutical industry, installed the first round of collection kiosks in March 2018. Sites are included in the "Where to Go" section at the bottom of this page and can also be accessed on MED-Project's website.
What about Controlled Substances?
Some prescription drugs classified as Controlled Substances are highly regulated, so only certain locations can accept them. See the Controlled Substances page for details.
Please note that some of the locations listed in the "Where to Go" section below accept medicines and other hazardous wastes but not controlled substances.
Can I also drop off my needles along with my medications?
NO! The medication drop-boxes are not designed to accept any "sharps." Please see our Sharps Disposal page for local collection sites.
Should I put pills into a plastic bag or keep them in their original bottles?
It's best to place all pills into a tightly sealed baggy (e.g. Ziploc) prior to bringing them to one of the drop-off sites. You can then recycle the bottles and/or boxes in your household recycling bin.
What about liquid medication?
Please make sure that liquid medicines are sealed tightly and put into a plastic bag. This is also true for medicated creams and lotions.
What about disposal at hazardous waste collection centers?
Some household hazardous waste facilities will accept certain types of medications; however, they are not permitted to collect "controlled substances." Controlled substances are regulated by the Drug Enforcement Administration (DEA) and include addictive and habit-forming medications like pain killers and anti-depressants. Check out our Controlled Substances page for more info.
Where to go
Related Events
Related Materials
Related Articles