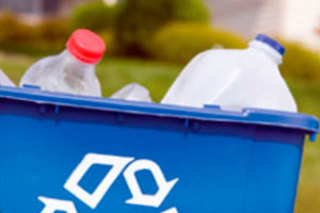 Recycling
This section has everything you need to know about recycling at your home, business, apartment or school. If you're not sure how to recycle a particular item, find it in the list below or use our search bar at the top of the page.
Electric cars and bikes are the norm these days. But did you know that things like lawn mowers and other home maintenance equipment are also turning electric? If you make the switch, make sure you dispose of your previously used equipment properly.
If it still works, sell it or donate it. There are many people who may be in need of a second-hand lawn mower or leaf blower. Remember to REUSE before you RECYCLE!
If your item does not work or is otherwise unusable, you can bring it to one of the locations below. Lawn mowers, and similar items are mostly metal and can be recycled!
You must drain all motor oil and gasoline before disposing of the item. Visit our page on motor oil and automotive fluids to lean about free and easy disposal of these materials once drained. Motor oil and gasoline are hazardous and cannot go into the trash.
Where to go
Related Materials
Related Articles